Essential Flavors of Korea – The Holy Trinity of Korean Condiments.
The aromas, palate and the vibrancy of Korean cuisine can essentially be boiled down into three base ingredients. These bases give food "the zing" that foodies around the world praise. Just as French, Mexican and Cajun cuisines, Korea likes to maintain a strong, foundational palette of flavors, and then lets its chefs paint on top of this rich canvas. The fundamentals are simple, you got your "-jangs" : gochujang, doenjang and gangjang. Each plays a crucial role but distinct role in the crafting of every dish.
Gochujang (고추장) is the harissa of the Korea peninsula. A ferocious sweet, spicy, and savory chilli paste that has been gaining momentum in a lot of households around the world. Be spoiled for choice walking into any Asian grocery store and being bombarded by a wall of crimson red tubs.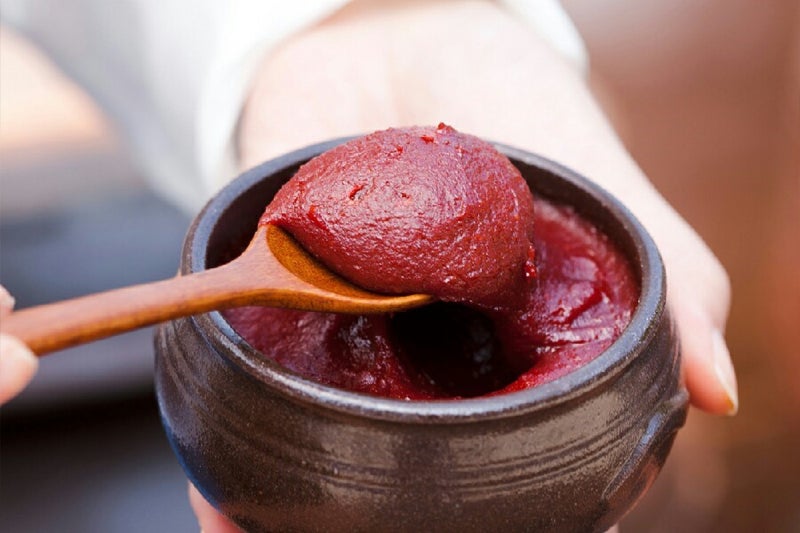 Made with glutinous rice, red chilli powder and powdered fermented soybeans are all brought together and traditionally let to ferment to let the flavors get to intermingle with one another. That deep, red flavor makes it crucial to making Korean food Instagram-worthy. Being insanely delicious, and highly versatile, gojuchang is the "kick" that everyone needs more of.
Doenjang (된장); a soybean paste, is the lesser known cousin of the three. Literally meaning, "thick paste" . Prime your tastebuds for this deep, rich condiment. Traditionally made at home after many months of fermenting, these days very good varieties are easily available Doenjang affords a depth of flavor that can only be achieved after a very long ferment. Similar to miso in that it is made from fermented soy bean but characteristically Korean with a special bacterial fermentation culture. Loaded with vitamins, flavonoids and essential amino acids, doenjang is a great way to become healthy while not skimping on taste.
Gangjang (국간장) is Korean soy sauce. Divided into two main types regular soy sauce and soup soy sauce. The regular soy sauce (whe-ganjang) is used similar to other East Asian cultures but soup soy sauce ( known as Guk-Gan-Jang) is the special secret sauce that is used to spice up hearty soups and with namul (vegetable side dish). With a saltier but lighter and cleaner flavor than the regular version, soup soy sauce is used to marinate and braise. Soy sauce brewing is serious business, it takes an exceptional palette, patience and a thorough understanding of the early Joseon recipes used to make it.
Miss Korea Kitchen 288 uses all of these ingredients in our Korean specialty dishes for maximum authenticity and taste. Come over to 288 Whitehorse Road to experience these essential Korean ingredients in the hands of our expert chefs.